A bit of history
Beyond Limits provides personalised support. Personalised Support means we provide support to people with complex and challenging needs to live their own life, on their own terms.
Personalised support?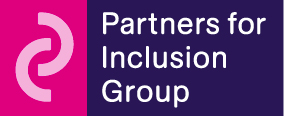 Personalised Support was developed in Scotland, in 1996, to provide support to people who were leaving institutions and moving into their own homes. It was and continues to be a radical step forward from the inflexible support often provided by Community Care services.
The first service to use this model was Inclusion Glasgow, followed by Partners for Inclusion, C-Change for Inclusion, Support for Ordinary Living (SOL) and other organisations who collaborate through the federation Altrum.
From Scotland to the South West…
Doreen Kelly, Director of Beyond Limits established Partners for Inclusion in Kilmarnock, Scotland, in 1996. For a detailed account of Partners' work and history download Personalised Support, a book about Partners by Julia Fitzpatrick.
---
Download: Personalised Support 2012.pdf
---
Partners' philosophy is to keep the organisation small. This ensures communication between those receiving support, friends, family and staff remains uncomplicated and efficient. When the number of people being supported by Partners got to 40, another organisation, Just Connections was established. This has been followed by other initiatives providing smaller amounts of support and the successful contact and dating project, DM2. Following this Beyond Limits was established.
Doreen set up Beyond Limits in 2011 and left Partners in April 2015 to focus on the work of Beyond Limits in the South West and England. Beyond Limits holds the same values and approach as Partners, providing truly personalised, innovative and creative support with the aim of helping all people leave institutions and enabling them to live full lives in their community.
And back to Scotland…
Doreen was born and brought up in Dumfries and Galloway (D&G) and felt it important to give something back to her community. For this reason Beyond Limits has opened an office based in Lochmaben serving people from there and the surrounding areas. Beyond Limits D&G is run by Pat Burnett (photo) with a growing team of staff supporting people across the region.